Last month marked the 29
th
LGBTQ+ History Month followed by the 112
th
International Women's Day on 8 March. Crucial dates in the calendar help us to focus on the vital importance of Diversity, Equity and Inclusion (DEI) in the workplace, as part of our client work and within our teams and everyday lives. These dates may help us to focus but DEI is something that should always be part of our overall consciousness.
Here at Four, we understand the value of diversity – agency wide - and we also have dedicated core teams, which handle diversity projects. It's one of the reasons we have attained B-Corp certification. As a
B Corp
, we have some exemplary diversity figures – 56% of our staff worldwide and 55% of our operating board are women; in terms of ethnicity, 33% of staff and 21% of the operating board are from ethnically diverse backgrounds; 12% of our staff also identify as LGBT+; and 10% consider themselves to have a disability. It's no surprise that we are performing better than the UK average in various aspects of DEI. Hear more about our mission as a B Corp
here
.
Shifting trends
Four's Strategy and Insights Unit has been looking into the shifting trends around diversity and inclusion – both in popular culture and media.
According to the
Census 2021 data
, currently 82% (48.7 million) of residents in England and Wales identified as "White", decreasing from 86% in 2011 – whilst the percentages of all other ethnic groups have increased since 2011. The proportion of disabled people has also increased, going from 19% in 2010/11 to 22% in 2020/21, according to the Family Resources Survey. In terms of sexuality, around 1.5 million people (3.2%) identified with an LGB+ orientation in 2021.
While these aspects all show the UK to be increasingly diverse, social mobility trends suggest otherwise. The UK is performing poorly in social mobility and equality compared to all major EU countries and according to the
UK's Social Mobility Commission report
, only 35% of UK adults believe that everyone has a fair chance of achieving more as a result of their hard work.  Meanwhile, 46% believed that where you end up in society is mainly determined by background and parental status.
Recognising diversity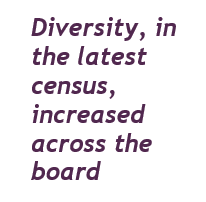 With 18% of people belonging to Black, Asian, mixed or other ethnic groups in the UK (according to 2021 Census data), diversity is now more important than ever. To corroborate this, Global Future's survey of 2,000 UK adults suggests that "nearly 7 in 10 agree that diversity has improved our culture. Food, music and sport are the cultural industries where people believe diversity has had the greatest impact."
Despite growing efforts to improve diversity both in the UK and globally, there is a lot more to be done. Gender inequality, low representation of ethnic minorities, lack of neurodiversity inclusion and ageism are just a few of the many issues that we currently face as a society.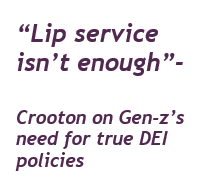 On the upside, it appears that more attention will be given to DEI.
Crooton, the recruitment company commented,
"although we need to be honest about where we are now and about the negative impact the pandemic has had on diversity and inclusion, there are some rays of hope. Gen Z are entering the workforce, and they have little tolerance for employers who aren't making genuine efforts to address DEI. In a recent survey, 69% of Gen Z respondents said they were more likely to apply for a job that clearly expressed their commitment to diversity and inclusion. Lip service isn't enough for this PR-savvy generation".
What are people saying?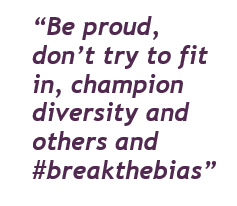 Using our proprietary methodology, Mapper360
®
, we analysed public conversations around DEI in the UK. Over the last 12 months, we have identified a total of 167k mentions online, with hashtags such as #breakthebias and #diversity gaining traction alongside mentions sharing personal stories.
As an illustration, people made comments like
"I wish I could tell my younger self, the girl who hid her disability and tried to blend in, to be proud of who she is. But I can tell it to myself now. Be proud, don't try to fit in, champion diversity and others and #breakthebias"
.
Dates like Black History Month in October also drove up mentions, with many organisations advocating and sharing key initiatives to improve their DEI as well as sharing individual stories experiences. Some of the most shared topics included areas like ethnic diversity, gender diversity, LGBTQ+ pride, feminism and disabilities.  
Agency action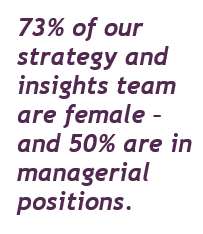 Having diverse agency teams that foster inclusivity and equity means that every client receives a well-rounded and unbiased service.
It is vital in research and insights that those interpreting an audience's view does so from an unbiased standpoint but this is easier said than done.
Prioritising DEI is one of the ways to ensure work is created empathetically towards all – with analysts and strategists able to discuss both from professional and personal standpoints.
Simply-put, asking ourselves would the recommendations
really
resonate with who we're trying to reach, is crucial. That's why in the strategy and Insights team at Four, 27% of our staff is ethnically diverse and 73% of our team are women.
However, diversity is as much about fostering courage to question as it is about hiring. Without supporting your team to feel that their voice will be heard on a topic, DEI is essentially just another term. This is why Four's approach to mentoring and lifting voices is so successful at raising diverse staff to higher levels and encouraging staff retention.
Have you asked your agency partner how they foster and grow diversity, equity and inclusion?  There's no time like the present.
By
Celia Dearden-Briggs & Michelle Wong