You've definitely heard of it, you're potentially hooked but there is so much about TikTok you probably don't know. So sit back and let us blow your mind with some facts and stats…
TikTok truths
Formally known as Musical.ly, an app primarily used to follow dance trends, TikTok one of the fastest growing social media platforms ever:


There are 30.8 million daily users across 154 countries


90% of users access the TikTok app every day


TikTok has the highest social media engagement rate (ER) per post. Content can reach a massive 18% ER compared with Instagram at 3.86% and YouTube at 1.63%1


40% of Gen Z (11-26 year olds) now use TikTok to make a search before Google2


It's the most addictive social media platforms by a long way – last year, users spent an average of 28.7 hours a month scrolling videos – Facebook clocked up 16 hours and Instagram 83


Although it's often regarded as a 'young people's channel' the audience is surprisingly evenly spread across the key age groups – so don't disregard the 20-50 year-olds straight away4 (they probably aren't as addicted though)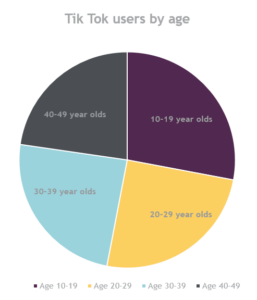 TikTok to do list
From global companies to small businesses in both the b2b and b2c arena, many brands are already using TikTok to stand out. It offers a creative way to engage with your audience on a platform that is very hard to ignore.
If you're looking to get started on the channel or need to take it to the next level here are some top tools to tap into:


Partnerships with creators (aka influencers)


A common way for brands to market on TikTok is to partner with influential creators on the platform. You could get them to promote a hashtag challenge you are running, review a product, Duet or Stitch (see glossary) with your videos or feature your brand in their content.


Shop till you drop (your phone)


If you're a product-driven brand, then TikTok shopping is a very effective tool to drive e-commerce. Users can buy products in the app without having to open a separate website. All you need is a minimum of 1,000 followers and an e-commerce system to set up a TikTok shop. Creators can add a shopping tab to their TikTok business accounts for immediate awareness.


Money talks


As with all the other platforms, paid ads are an important part of a TikTok marketing strategy, especially if you have an acquisition goal. Consider running TikTok ads to get your brand or product in front of the right audience and attract potential customers. Of course, creativity is still king – a well-planned, on-trend video can get viral views overnight.


Hashtag challenges


TikTok users love a challenge, which is why so many dance videos became viral on the platform. Tap into this interest by launching a branded hashtag challenge, that will help your client generate tons of user-generated content and gain visibility on the platform.


Play to platform strengths


Whether you're producing 15 sec, 60 sec, 3 minute or newly released 10 minute videos, you need to play by the platform's rules if you want to get seen. This includes using trending sounds and hashtags and interacting with other accounts too.
TikTok trends


According to TikTok's trend report, 2023 will be the year for positive vibes. 50% of TikTok users said the platform makes them feel happy and more than a third of them said brands have to "lift their spirits", in order to motivate them to make a purchase.


Trust will also be big on the agenda this year – the report found that 72% of users who bought a product or visited a website after going on TikTok, said they watched a review from a creator they trusted. To drive sales on TikTok, creators and brands alike will have to build that trust with their audience — no more misleading ads or clickbait content.


TikTok SEO will be more important than ever as the channel moves further into becoming a first choice search engine.


Brands will lean into user-generated content as a means of portraying their brands through the content produced by genuine fans and customers.


No niche will be too small – all communities will get even tighter and those who have niche interests will be able to find their group of creators, who will understand and inspire them.


So if we managed to convince you that TikTok is for your brand and you want to get your content seen by millions of daily users, then get in touch with the Content Marketing team for more information about how we can support that goal.
Find us at
contentmarketing@fourcommunications.com
GlossaryDuets:
This is a feature that allows you to post your video side-by-side with a video from another creator on TikTok. A Duet contains two videos in a split screen that play at the same time.
Here's Aldi's
Duet
with their famous chocolate cake.
Stitch:
Stitch is a creation tool that allows you to combine another video on TikTok with one you're creating. If you allow another person to Stitch with your video, they can use a part of your video as a part of their own video with their content.
Check out this creators'
Stitch
video with Adidas.
For You Page (FYP):
TikTok's main landing page and the first thing you see when you open the app. The FYP is full of recommended videos that are tailored to each user.
Algorithm:
a recommendation system that determines which videos will appear on your (unique and highly personalised) page.  
References: